Adult Dance Classes 
Elevate Dance Center is now offering adult classes! The adult program is  membership-based (like a gym), and does not lock you into a specific weekly class. Both beginner and experienced dancers are welcome, because EDC teachers are expert at rocking mixed-level classes. Each adult session is an eight-week commitment for $265.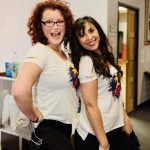 Session Dates
Fall I Aug 21- Oct 14 *no classes 9/2-9/4
Fall II Oct 16- Dec 16 *no classes 10/31, or 11/22-11/25

Spring I Jan 8-Mar 2

Spring II Mar 4-May 4 *no classes 4/1-4/6
Summer June 3-Aug 3 *no classes  7/1-7/6
Included in your membership
Unlimited adult program classes- come to anything you want, as often as you want, we offer 9 classes per week! (Pricing is based on attending 3 classes per week, so anything over that is gravy for you…) 

Option to take 1 High In10Sity class per month

Band accountability group with tips, motivation, recipes, and more

Members who join for our first ever Fall I Session will also receive entry into a drawing for an "Elevate Me" Transformation Package for Dancers from our friends at Skinbar- a $1,310 value! Receive 1 entry per class attended. Package includes 1 Ultimate Contouring Session, 2 Musculpting Sessions, and 1 Athletic Endurance I.V.
Class Offerings (all classes are 30 minutes to accommodate those full plates of adult life, but stacked for those who want a full hour of class time together)
Monday 8:15pm Cardio Tap Fit

Monday 8:45pm Tap

Tuesdays 8:15pm Cardio Hip Hop Fit

Tuesdays 8:45pm Hip Hop 

Wednesdays 6:45pm Stretch and Strength

Wednesdays 7:15pm Jazz 

Thursdays 6:45pm Barre Fit
 *45 minute class

Saturdays 8:00am Ballet Barre

Saturdays 8:30am Ballet 
"Fit" classes are more fitness-based and will work that body into a sweat using dance moves, drills, and exercises. Regular dance classes are more traditional in nature, focused on learning and improving dance technique, and may include progressions across the floor, center work, and/or a choreographed dance. (Regular dance classes will not include more than a 5 minute warmup- if you can't or don't want to come to the Fit class before the dance class, then show up a few minutes early and stretch in the background so you can start class already warm.)
Dress Code
We're freaking adults. We wear whatever we want. But keep in mind:

There are kids present in other classes during adult classes. Keep it classy, positive messaging only, and ideally you'll wear a shirt in the hallways since the kids aren't allowed to show their midriffs. 🙂 

Tap shoes strongly recommended unless you want to keep playing the air guitar with your feet.

Dedicated dance shoes (not worn outside), socks, or bare feet required for all classes.  
FAQ's
Will there be a recital and can I/do I have to do it?
There will be a performing OPTION if we get enough interest to do it. Let's launch the program and see how it goes!
Can I get a refund?
There are no refunds on adult program purchases, regardless of class attendance (or lack thereof). C'mon! You can do it, put your back into it.
What is the cancellation policy?
When you sign up for a single session, you are commiting to an eight-week membership, and there are no refunds or cancellations (see above). We require 30 days written notice to cancel those on recurring memberships (automatically enrolled session after session).
What's with all of the policies when I sign up? 
We use the same platform to sign up for kids' classes, as we do for adults. Some of these policies do not pertain to adults. Please "agree" anyway, and just know that the Returning Student Registration Deposit, Supervision, Membership Fee, Withdrawls, and Marketing policies do not pertain to the adult program.