Thanks for supporting small business! Please check this page first and visit one of Our Partners the next time you shop:

At Kevin Kerber Wealth Management, we strive to understand your vision and what financial security means to you. We will then personalize a strategic plan unique to you. Achieving financial security takes more than creating a comprehensive plan; you also have to take action on your plan, and evaluate and adjust it over time.  Together, we'll create a timeline to help protect you and your family now, and execute the steps necessary to respond to whatever life brings.
"I have been friends with Kevin Kerber since we were kids. His heart, honesty and integrity are second to none!"
-Miss Dena
Kevin Kerber Wealth Management was our Marquee Sponsor at Spring Show 2021. EDC thanks you!
Ammex Masonry is a masonry contractor specializing in the highest quality commercial construction. Included with their services are budgetary numbers and value engineering suggestions to help close budget gaps. The team at Ammex Masonry takes pride in every detail, from estimating to punch list completion.
"Josh and Jaime are pretty much the most expert guys around when it comes to commercial masonry. They have quite literally built Colorado since 2002. Also, they're super handsome."
-Miss Dena, Josh's Wife
EDC thanks Ammex Masonry for sponsoring our Spring Show 2021!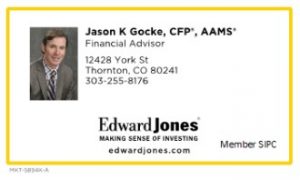 For over a decade Financial Advisor Jason Gocke has partnered with his clients to plan for retirement, address the costs of education, protect loved ones and pass wealth to heirs. He is honored to have the opportunity to serve members of his community and others across the country. He has enjoyed getting to know people from all walks of life, including small business owners, healthcare professionals, teachers, firefighters, police officers, engineers, IT professionals, executives and retirees.
Jason's goal for his clients is that they feel understood, informed, in control and secure. We do this by working closely with our families to learn what is important to them and develop a tailored solution based on their goals. We are planning for the expected and preparing for the unexpected. Finally, we partner through life's milestones to help keep the plan on track.
"Jason is a great listener and always willing to go above and beyond for his clients." -Miss Dena
Jason Gocke, Financial Advisor- Edward Jones LOVES Elevate Dance Center.
We are so grateful he sponsored our Spring Show 2021!

Physical Therapy of Boulder, is an independent, therapist owned clinic specializing in the care and treatment of spinal disorders, upper and lower extremity disorders, and women's health issues at three locations in Boulder, Longmont and Lafayette.
"We are so excited to partner with the therapists at PT of Boulder for our Pointe Assessments. It is wonderful to work with professionals in the medical field who have an interest and understanding of the unique nuances of the dancer's body."
-Miss Dena
PT of Boulder LOVES Elevate Dance Center- we are so grateful they have chosen to DONATE their services to our students for their pointe assessments! EDC thanks you!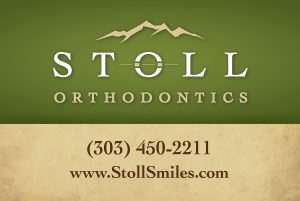 Stoll Orthodontics, provides advanced orthodontic treatment with compassionate and courteous service. Dr. Gregory Stoll and all of his staff are highly experienced in providing comprehensive orthodontic treatment for children, teens and adults in the communities of Thornton, Westminster and Broomfield and other surrounding  North Denver Metro communities.  From early orthodontic treatment to Invisalign clear aligners and Damon self-ligating braces, Stoll Orthodontics has the perfect treatment option for you.
"My children have received fantastic orthodontic care at Stoll Orthodontics. Dr. Stoll is thorough, thoughtful and an expert in his field. The whole staff there is amazing, and the client experience is a WOW. From the massage chairs in the waiting room to the fresh cookies when you leave, my kids think going to the orthodontist is a treat!" -Miss Dena
Stoll Orthodontics LOVES Elevate Dance Center! Mention that you are an EDC dancer when you begin orthodontic treatment and receive $200 off and the EDC Giving Fund will also receive $100. Thanks, Dr. Stoll!  
Wholehearted Girls was founded by Lindsay Gorske in 2016. Lindsay has always been inspired by her own three girls, and really wanted to teach them how to overcome the challenges young women face growing up. Girls need to have tools to feel empowered when life knocks them down. Their goal is to give girls in 4th through 8th grade opportunities to create safe communities with others, identify and value internal individual characteristics, and learn strategies to help them stay true to who they are as people. They do this by utilizing a powerful curriculum full of engaging activities focusing on 4 areas: Authenticity, Self-Love, Courage, and Letting Go.
"I have always believed in the mission and vision of WHG and I love what Lindsay is doing to empower young women. I wish I had a daughter, just so I could put her through this program!" -Miss Dena
EDC wholeheartedly thanks Wholehearted Girls for sponsoring our Spring Show 2021.  
Zyia Active, is an active lifestyle brand. It is also a culture that believes in embracing activity with excitement, vigor and delight. We feel that pushing your body and mind is easier and more fun with friends and family. Our mission is to inspire and uplift by making activity a fun and essential part of life.
"I feel fantastic in Zyia activewear. Whether I am dancing, lifting, training jiu jitsu, or hanging out in my regular life, I feel great in Zyia clothes and they are priced so much better than some of the other brands out there."
-Miss Dena
Zyia Active Representative, Brianne Hogue LOVES Elevate Dance Center!
Thank you for sponsoring our Spring Show 2021.