Emma Kerber
Student Instructor  
Emma has been dancing since she was a tiny girl of four and switched studios twice, until she found the right home at Elevate Dance Center. Under Miss Dena, Miss Janelle, and Miss Sara's teaching, Emma has adapted and explored the many genres of dance including ballet, hip-hop, breakdance, lyrical, acro, tap, and jazz. During the 2021-2022 season she was voted Co-Captain of the EDC TEAM, which has given her the opportunity to lead her team at basketball games and kids' events. Emma passed her  pointe assessment in March of  2021, and has been flourishing en pointe ever since.
When she's not dancing, you can find Emma buried in a good book or enjoying the outdoors by hiking, planting or simply spending time with her family and two dogs in the mountains.
How To Be Successful In Miss Emma's Classes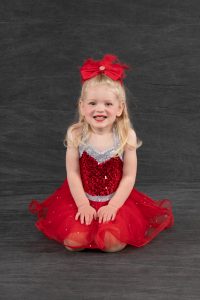 PRE-PRIMARY TAP/BALLET
Hi, Parents! You are the reason your dancers will love coming to class. Thanks so much for modeling a fantastic attitude and helping them arrive prepared! Please take your dancer to the bathroom before class, even if they say they do not have to go. Secure their hair, but leave fancy barrettes and headbands at home. (Sometimes we stand on our heads.) Hang coats and leave street shoes in the hallway. Help your dancer put on their tap shoes before class. Your dancer will line up against the wall with their second pair of dance shoes and water bottle. Belongings can be in a small dance bag if that makes it easier for them to carry, but please leave extras- like toys- home and not in the bag. Label everything you bring into the studio if you hope to get it back. 🙂 We love it if you arrive 5 minutes early to class, but not sooner. Once your dancer is lined up for class with an EDC staff member, please kiss and go quickly. Stay invisible to your dancer for the duration of class- it really helps them focus and creates the best learning environment. We will end class on time by passing out stickers. The teacher will bring in the next class BEFORE sending your dancer's class into the hallway to avoid congestion. Help your dancer change back into their street shoes before heading back out into the world. Thanks!