Thanks for supporting small business! Please check this page first and visit one of our Our Partners the next time you shop: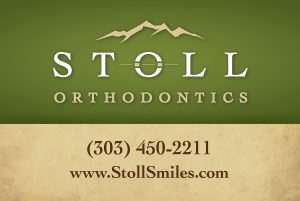 Stoll Orthodontics, provides advanced orthodontic treatment with compassionate and courteous service. Dr. Gregory Stoll and all of his staff are highly experienced in providing comprehensive orthodontic treatment for children, teens and adults in the communities of Thornton, Westminster and Broomfield and other surrounding  North Denver Metro communities.  From early orthodontic treatment to Invisalign clear aligners and Damon self-ligating braces, Stoll Orthodontics has the perfect treatment option for you.
"My children have received fantastic orthodontic care at Stoll Orthodontics. Dr. Stoll is thorough, thoughtful and an expert in his field. The whole staff there is amazing, and the client experience is a WOW. From the massage chairs in the waiting room to the fresh cookies when you leave, my kids think going to the orthodontist is a treat!" -Miss Dena
Stoll Orthodontics LOVES Elevate Dance Center! Mention that you are an EDC dancer when you begin orthodontic treatment and receive $200 off and the EDC Giving Fund will also receive $100. Thanks, Dr. Stoll!